AFSC's work in the Middle East began in 1949.
In the aftermath of World War II AFSC gained experience resettling refugees and displaced persons, and was asked by the United Nations to organize relief efforts for Palestinian refugees in the Gaza Strip. This continued until the United Nations Relief Works Agency began operations on May 1, 1950. From its initial engagement with refugees in Gaza, AFSC has been committed to peace-building in the region.
AFSC's Friends Relations works to increase collaboration between AFSC and Quaker meetings/churches
By engaging with Friends and providing resources for spiritually-grounded social justice work, the program seeks to support a movement of Friends working for lasting peace with justice.
1. Listen and learn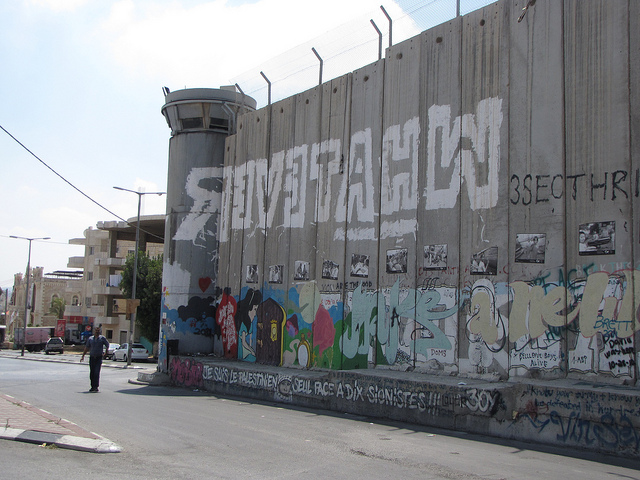 The violence inherent in the Palestinian Israeli conflict, the harm that has been done to both Palestinians and Israelis, and the often contradictory information that is presented about the conflict make this a difficult issue to discuss.  It is likely that addressing this topic will raise political sensitivities and political concerns among members of your faith community.  The best way to address these concerns while promoting learning and action is to take time to listen to Palestinians and Israelis and to learn about the ways in which Israelis and Palestinians are impacted by violence and human rights violations today.
2.  Join a national network
All around the country, Quakers are taking action in their communities to help bring about peace with justice in Israel and Palestine. Join the Quaker Palestine Israel Network.
3.  Take economic action
In 2005, over 170 Palestinian organizations issued a call to the international community asking for the implementation of boycott and divestment initiatives (BDS) to stop human rights abuses against Palestinians by the Israeli government. The initial Palestinian call was signed by a broad coalition that included unions, academics, political parties, cultural groups, and civil society organizations.  AFSC is supporting and organizing various actions and campaigns and have developed an investment screening tool for individuals and groups to review their investments: investigate.afsc.org.
4. Write a minute or statement of support
Once your congregation has taken time to learn about the issue and become involved with efforts in the United States and around the world to end human rights abuses against Palestinians, consider writing a minute or statement of support for BDS. 
5. Become an advocate
The United States foreign policy is deeply enmeshed in the politics that perpetuate injustices towards Palestinians, and it is critical that our representatives know more about what their constituents would like to see change in the region. 
Additional Information and Resources:
On Israel & Palestine
5 things your Quaker congregation can do to bring about just and lasting peace in Israel and Palestine (Detailed Version)
Read You just have to be human: Resisting apartheid and occupation about the HP boycott
Sign the Hewlett Packard boycott petiion
Read Acting in Faith posts on Israel & Palestine
Host or visit AFSC's "Boycott! The Art of Economic Activism" exhibit
Read AFSC's Principles for Just and Lasting Peace in Israel & Palestine
Read Gaza under Siege
Watch Israel/Palestine 101 by Jewish Voice for Peace
On spirit-led social justice work with AFSC
9 ways to connect your meeting/church to the work of AFSC
Information and Resources on Quaker Social Change Ministry
Receive email updates with reflections, learning resources, recent blog posts, and action alerts.
Or subscribe to our RSS feed
QuakerSpeak
We're partnering with QuakerSpeak, a project of Friends Journal, to encourage Friends around the country to join us in doing spiritually-grounded social justice work. Subscribe to QuakerSpeak for interviews on the core questions of our faith. The videos are directed by Jon Watts.